Retro mountain bike build: My 2002 Cove Handjob XC
Almost two years I was poking around Pinkbike's Buy and Sell, and came across a brand new 2002 Cove Handjob XC frame, size XL for sale by a fellow in Vancouver. The frame had never been ridden and had only seen a seat-post and headset installed. There was a slight ding in the chain-stay and for the price, included a red Chris King headset.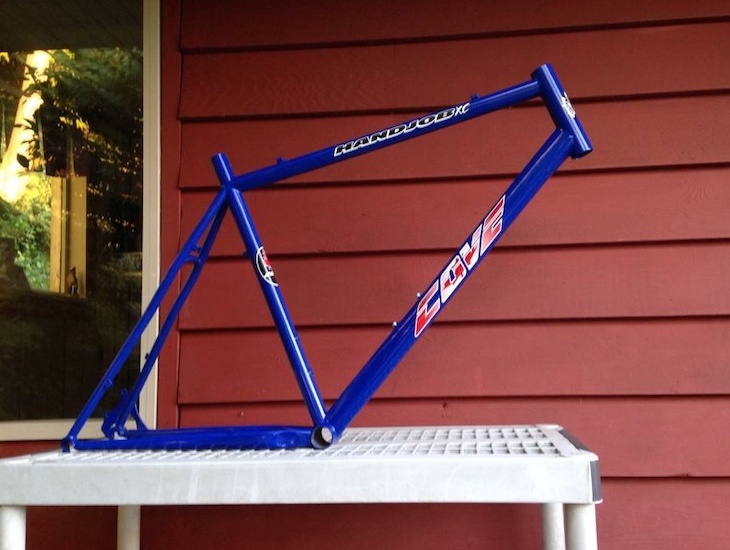 I did some research about the frame - there's not a lot of information online regarding the model - and discovered this particular Cove Handjob was made of Columbus Nivacrom butted steel tubing and welded by Yess Products in Surrey, B.C, Canada.
I have a soft spot for the Cove Bike Shop, having been there a few times when it was in its original location in Deep Cove. Back then, Sharla and I were newly married with no kids and I often spent Saturdays riding Mount Seymour with an old friend of mine.
Mount Seymour had some of my favourite trails - Ned's Atomic Dustbin, Pangor, CBC, Severed D and others - plus it was the easiest of the three local mountains to get to coming from Abbotsford, where we lived. My collection of very old and worn out Roach pads were all purchased at that shop.
Cove was also the place where I rode my first full-suspension Kona - a Stinky, of course - and that put me on the path to owning many Kona bikes in the future. The names Chute, Hei Hei, Kula and Zing will each ring a bell for Kona fans.
The guy with the Cove Handjob was only open to selling it in person and I wasn't going to be down in Vancouver at any point soon, so I reluctantly let him know I was really interested but had to let it pass by.
Turns out, a 15-year old, 26" wheel XL-sized steel hardtail frame isn't at the top of most cyclist's shopping list, so five months later when I got back in touch with him, the Cove Handjob was still for sale. I had a friend soon flying up from Vancouver to Whitehorse who met him downtown in July, exchanged the cash, boxed up the frame and brought it on a plane with him to the Yukon. Thanks, Alfred.
By the time I got my hands on the Cove, it was September 2016. As the seller had stated, it was in excellent condition and I was happy to have it in my possession. I had next to no parts for the bike yet - one step at a time - so I hung it up on our spare bedroom's wall with some fishing line and slowly began collecting as many period appropriate bits as I could find and afford.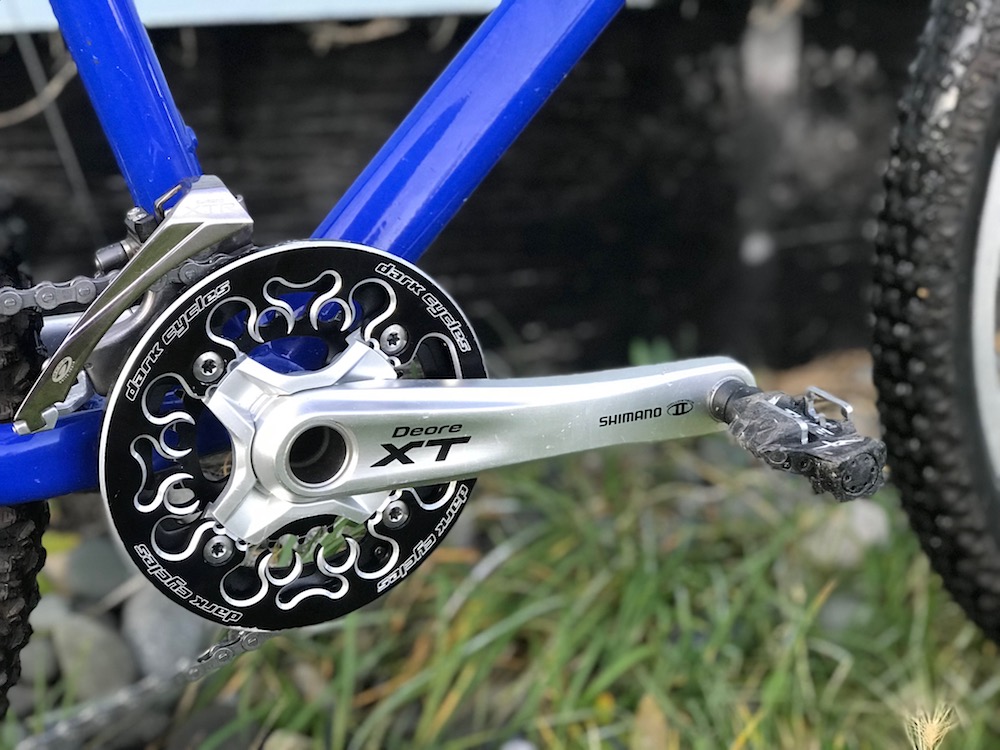 Upon asking, I found out my brother-in-law had quite the collection of mountain bike parts from the early 2000s that he was willing to let me have. He gradually found and pulled together the following gems, brought to me in a cardboard box at Christmas:
Razor Rock Racing after-market brake levers
Dark Cycles bash ring (complete with machined flames)
Sun Rhyno Lite red rim (laced) with Hayes DT Hugi hub
Shimano XTR 9-speed rear derailleur (with after-market carbon fibre hanger)
Shimano XTR shifters
Shimano XT cranks
Shimano XT bottom bracket
SRAM 9-speed rear cassette
I told some of the mechanics at my local bike shop, Icycle Sports about this Cove Handjob project bike I was attempting to build up. Being bike nerds themselves, they were happy to look around for old dusty parts that would suit the style of the Handjob (and were probably even happier for those parts to finally find a home).
Of the parts from Icycle Sports, some were period specific:
Shimano XTR 9-speed front derailleur
Sun Rhyno Lite black rim (again, laced) with a Shimano XT hub
SRAM 9-speed chain
Other parts were more modern, but still retro-enough to fit the build:
Surly Troll 26" fork, complete with rim brake pivots
Most of the remaining parts were mine and were a mix of both old and not-as-old:
Kenda Small Block 26" x 2.1" folding bead tires
Truvativ stem
Truvativ handlebar
Ergon SM3 saddle
Kona lock-on grips
No-name quick release skewers
The last few parts I needed were cables, housing, a seat-post clamp and a seat-post. As it turned out, locating that final one was pretty difficult: a 27.2 post in a 400mm length that is more than a flimsy single bolt model (or a very expensive double bolt) is hard to come by. Icycle Sports let me borrow a single-bolt model while I continued my search.
I'd check eBay and Pinkbike's Buy and Sell for a seat-post every once in a while, finding nothing until one day I stumbled upon a non-period specific but still equally awesome and lightly used Chromag Dolomite 27.2 seat-post for sale, dirt-cheap by someone in Calgary. Done!
By September 2017, I had all of the parts for my 2002 Cove Handjob ready to go. I went to Icycle Sports to have them clean up the headset and bottom bracket threads, then a few nights later went over to my brother-in-law's house with my many boxes of parts, and over the course of a few hours (and some beers, naturally) we got most of the bike together. The following weekend, I dropped by Icycle Sports and one of the mechanics - thanks, Aiden - did the rest. By Saturday evening, the Handjob was ready to roll.
On Monday morning, I rode the now 27-pound complete Cove Handjob to work.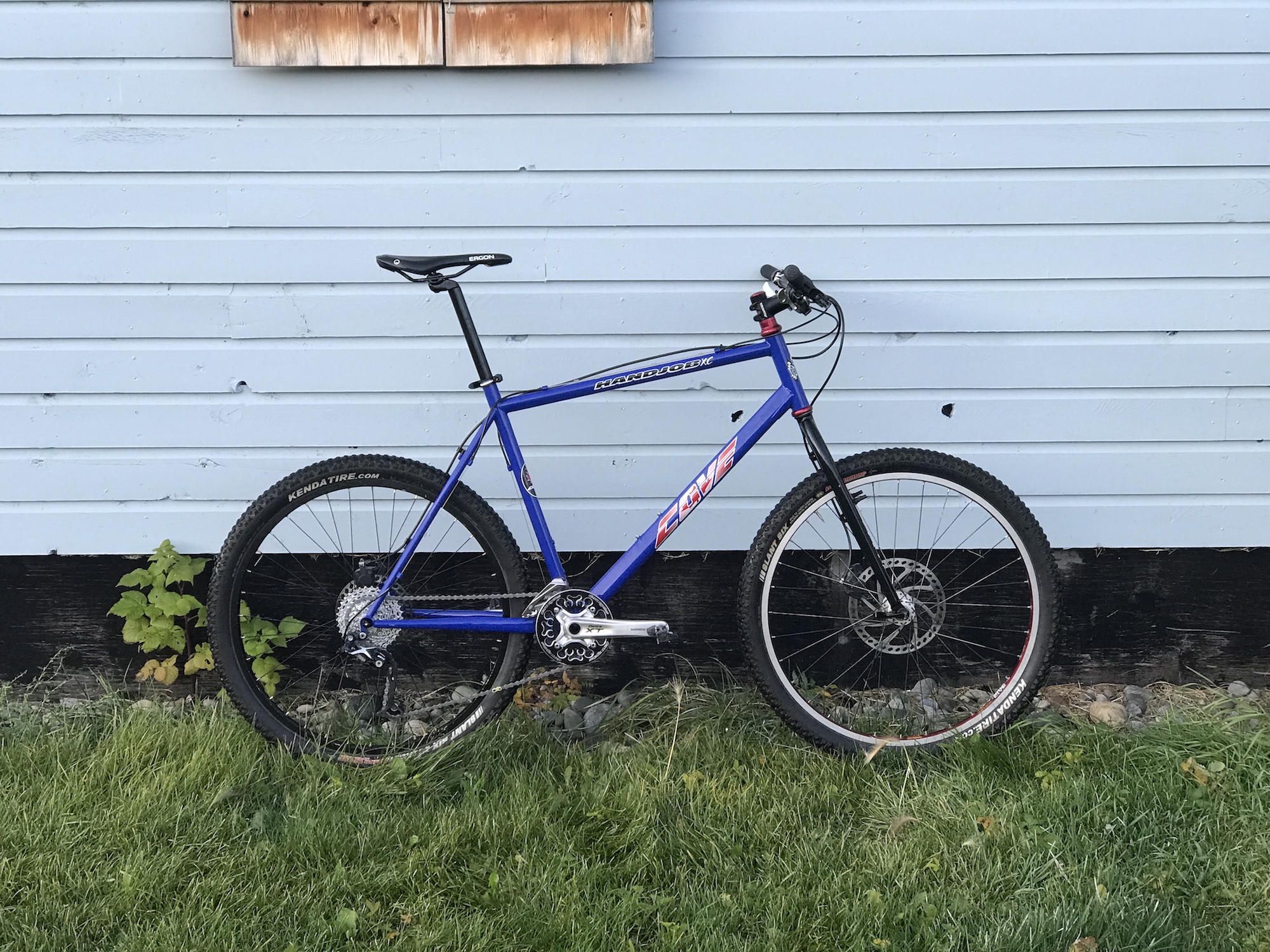 I don't think you can fathom how far mountain bikes have come in the past 10+ years unless you hop aboard a retro-ride such as this Cove Handjob and take it for a rip on your local trails.
Of the few rides I did on the Cove before the snow fell, I enjoyed being made hyper-aware of the lack of suspension, mostly operational disc brakes and what a rigid steel fork combined with skinny 2.1" tires feels like on even the most lightly rooted trails. Everything that was old was suddenly new (and very challenging) again, and that was a lot of fun.
The Cove Handjob will likely remain a commuter bike for me, but I'll most certainly break it out once in a while on our Whitehorse trails, just for giggles...and to remind myself of my north shore roots.