Last week, after four years in the public service I resigned from my job.
I was the first employee at the Government of Yukon's recently established eServices for Citizens branch. During my time, we grew the eServices team to seven people and together with colleagues across the organization made significant improvements to government technology, process and culture.
I'm going back to the private sector, after being asked to lead the design effort at an exciting start-up, Proskida.
I'll also be freelancing when time permits. More on that later.
My four years in government were incredibly rewarding and extremely challenging. The role I was in – establishing standards, tools and processes for service design, user research, iterative development and performance measurement of citizen-facing services – pushed me hard. Thankfully there was enough shared optimism and a clear enough vision of where we wanted to go that I daily felt inspired to grind my way through.
There's no doubt I had my ups and downs, wins and losses. I'm certainly not leaving without some stories and battle scars. I still don't regret a single second of my time there, no matter how difficult it sometimes was to maintain course.
I came to government to make services better for citizens. I wanted a lower barrier to entry to build and deliver services, and create a more accessible experience for the public. Through our work, we've enabled many others to build simpler, clearer and faster government services.
The support of a talented director and forward-thinking leadership helped create the conditions so change could happen within Government of Yukon. Without their backing as well as conversations with those in other Canadian provinces and territories, we could never have achieved what we did.
Yukon.ca
Together with my team, vendors and many other talented people across government we put in place a new user-centered design for the Government of Yukon website, Yukon.ca. The site is a work in progress and government is still transitioning its pages to Yukon.ca. The benefit is serious cost savings and efficiency gains as we shut down hundreds of standalone websites.
Transactional services
eServices started small with transactional services, testing our ideas with Alpha prototypes and publicly available Beta products that we would continually improve. Some of my first projects are still online today and are heavily used and appreciated by citizens. I know because I've seen every single feedback form submission that's been sent in by someone, both negative and positive.
Digital Standard and Yukon.ca Design System
After getting lift-off on some key projects, I helped create and evolve the Government of Yukon Digital Standard. What began as a few pages has now turned into 150+ of in-depth guidance.
We also made the Yukon.ca Design System. This was us packaging the standards into code and templates so others can follow and use them to build high quality digital services of their own. I had to find a way to enable others to do the work that I was doing, and this was my attempt to scale and empower more people. I am particularly proud of the standard and the design system.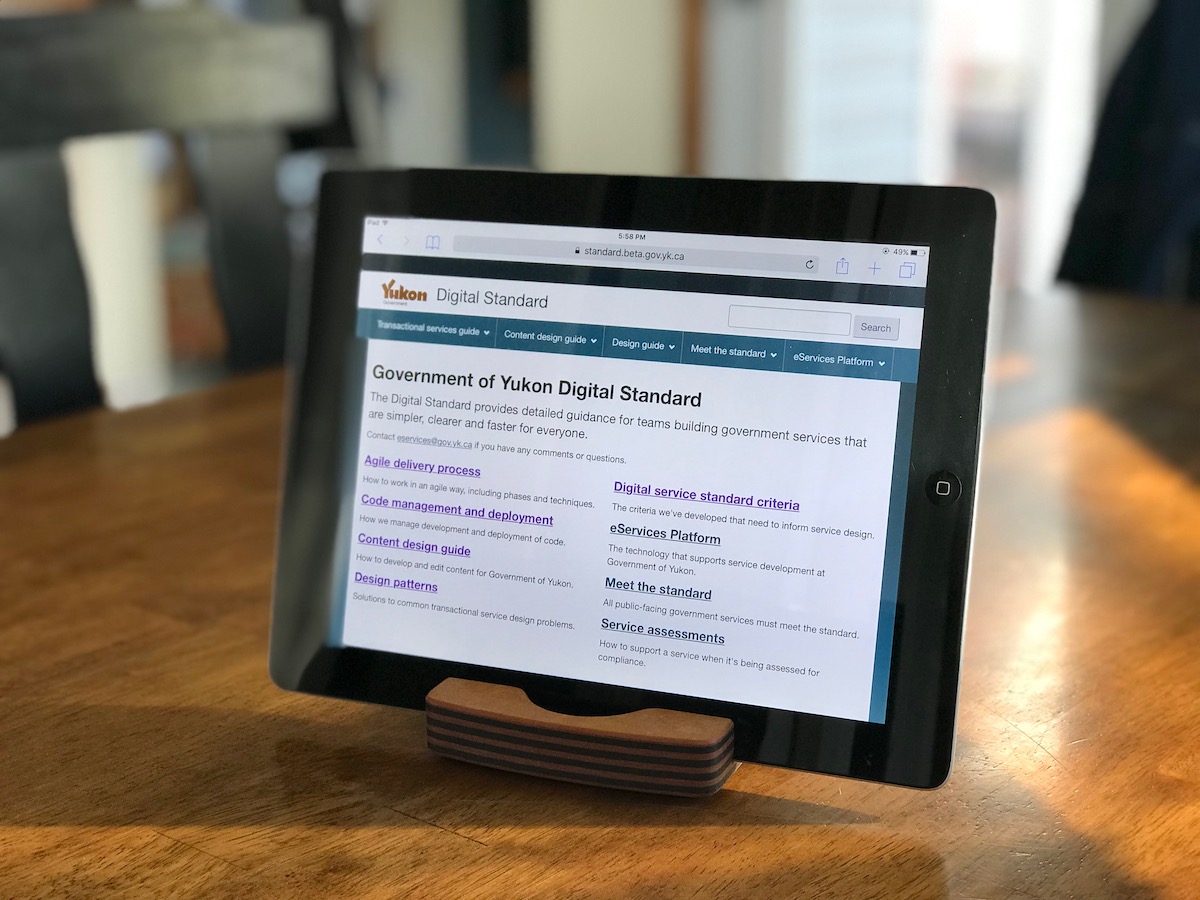 eServices Platform and other results
At Government of Yukon we now have a common Git source code system, advanced web analytics, performance data reporting, an open data catalogue and probably closest to my heart, a brilliant little user research pool. That is, a group of volunteer citizens who help eServices test new and changes to existing digital services. It brought me so much joy to meet with these folks and have them openly participate in our process.
Onwards
With all of these memories and achievements, it was a tough decision to walk away but I'm leaving Government of Yukon's digital future in capable hands.
It simply felt like the right time to move onto the next chapter of my life and career, and let others take the lead.
I wish my former team and colleagues around government every success.