Race report: Belgian Waffle Ride Canada (BC)
It's the middle of August – almost 3 months after the BWR - and I still haven't shared how it went. Oops!
Consider this my very condensed post-race report.
Finishing
My goal was finishing in 10 hours or less. I finished in 10 hours and 3 minutes. This put me into 149th place, almost exactly mid-pack.
218 km and 3,330 m of climbing makes for a long day!
I feel I could have gone faster and likely cut at least 30 minutes off my time. I had no idea what to expect on a course of this length, so I played it safe and stopped at every aid station, and didn't push myself as hard as I could have.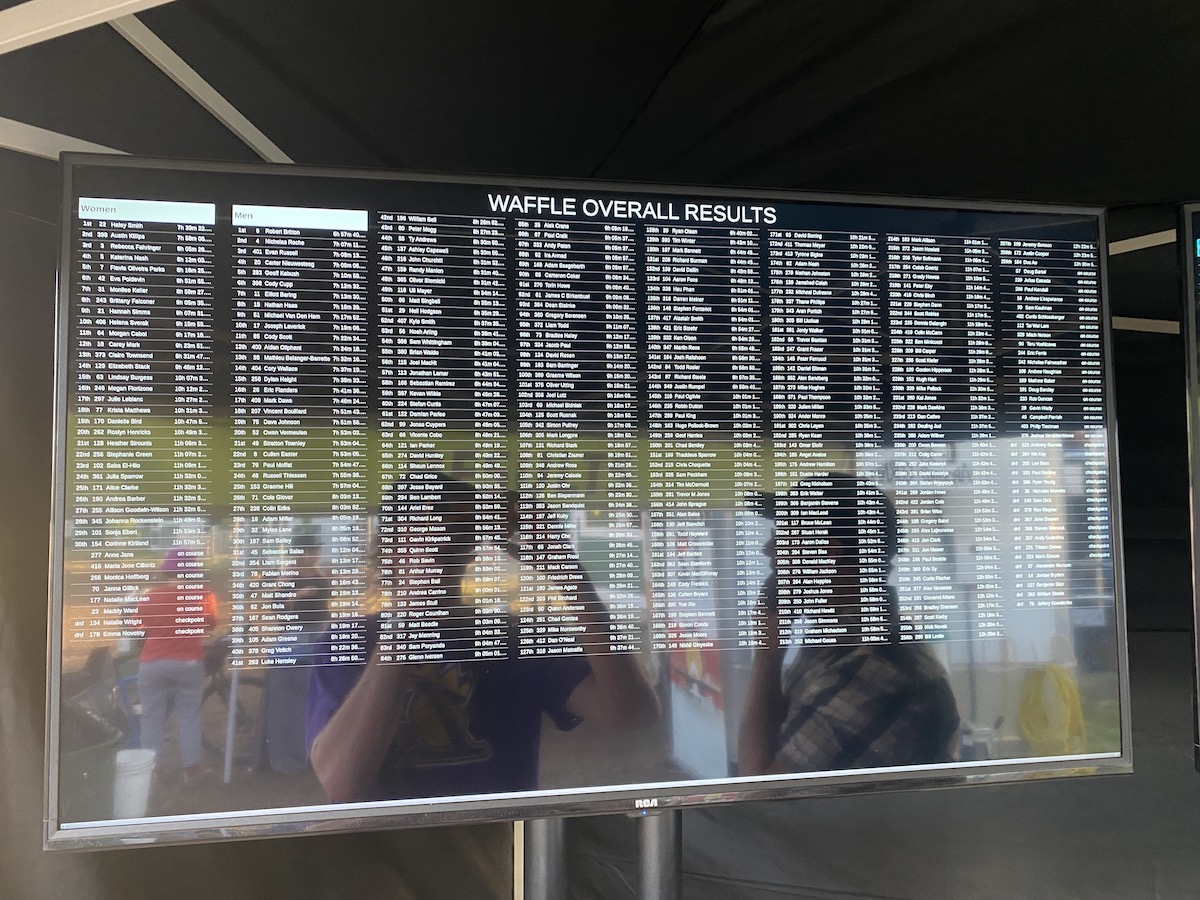 Course
Based on the marketing and communications prior to the event, I was expecting much gnarlier singletrack and a harder course overall. I could have made the ride more painful by riding faster, but again I didn't know how my body would react.
I didn't do as much training as others I know, but what I did do clearly made a huge difference. I was able to enjoy the experience and not just suffer endlessly. Thanks to Matti Rowe for his training plan, personal support and encouraging emails.
I appreciated the fact that this wasn't just a gravel road event. The singletrack and asphalt sections combined with gravel made it much more interesting and fun. I'd seek out this event format again in the future.
Bike races have many smells. One I won't soon forget is the stench of several hundreds of disc brake pads all burning at once as a large group of us rode through the opening swoopy road sections together.
I got lost a few times. Having a bike computer with the course map on it would have been helpful.
Training and preparation
As mentioned in previous posts, training for BWR BC has resulted in my highest-ever annual training numbers since I started digitally recording them.
Activities to date
3,674 km of cycling
180 hours of cycling, walking and weight training
45,500 m of elevation gain
Here were my final numbers prior to the BWR BC on May 28, 2023.
May 2023
523 km of cycling
29 hours of cycling and weight training
6,000 m of elevation gain
April 2023
860 km of cycling
38 hours of cycling and weight training
9,000 m of elevation gain
March 2023
239 km of walking
33 hours of walking and weight training
2,350 m of elevation gain
February 2023
417 km of indoor bike riding
25 hours of cycling and weight training
5,100 m of elevation gain
January 2023
445 km of indoor bike riding
25 hours of cycling and weight training
6,800 m of elevation gain
December 2022
263 km of indoor bike riding
18 hours of cycling and weight training
3,900 m of elevation gain
Post-event, I hit a serious slump, especially in July. I wasn't particularly motivated to ride my bike and instead wisely chose to swim, hang out with my family and eat ice cream.
July 2023
297 km of cycling
20 hours of cycling and weight training
4,500 m of elevation gain
June 2023
574 km of cycling
27 hours of cycling and weight training
6,300 m of elevation gain
Equipment
My Trek Checkpoint SL 5 performed flawlessly. I was very thankful for my size 61 cm frame and its ability to run 3 bottle cages.
The Pirelli Cinturato Gravel M 40 tires were amazing. I ran 45 PSI in the rear tire and 40 PSI in the front tire. No issues at all. I could have ridden lower pressures, but I was concerned about flatting.
Food
I ate so much food! Almost 8,000 calories worth. I was very thankful for the well-stocked aid stations.
Speaking of food from aid stations, if I ever must eat a single Powerbar Powergel Shot again – I probably ate 12 pouches of them – bad things will happen. That was in addition to the other food I brought and ate.
I was very thankful for the dill pickles served. Dill pickles (especially paired with a can of Coca-Cola) are wonderful things.
Friendships
It was amazing to have met people from all over Canada and talk to them during the event and over beers afterwards. I wore our Team Yukon kit, and that was a conversation starter for sure.
I got to ride with other Yukoners throughout the race as there were so many of us there.
Most of all, I really enjoyed the hours I spent with my house mates: Colin, Steven and Jordy. That was a big highlight for me, in so many ways. Great memories of times at home, on rides beforehand, and conversations afterwards.
Overall, BWR BC was an incredible experience and I'm glad I did it.